Is it 404 or Not? A Hilarious Useless Website
Welcome to the latest addition to the useless websites category.  IsIt420OrNot.com is one mans plan to create a centralized location on the Internet that will finally tell you whether the time is  AM or PM.  It was created to provide to the stoners of this world  or any other world that may have access to our internet,  and also has weed, and shares our measurement of time, and police codes, and… …. you get the theme right?
The designer of this crazy project is currently taking The Ultimate Web Design and Development course over at Udemy.com which consists of 23 projects. He is currently about four projects in,  so there is still a lot more fun to be had with this page. Considering this is just one of the many courses that he has already signed up for, he plans to complete many more additions using this 4:20 motif, the craziness will just keep on coming.
So whether you're a fan of marijuana or unconventional education…
This is the useless website for you!
Thank you to the Matt, the owner of isit420ornot for his submission.  I am sure that we will be seeing a lot more from him in the future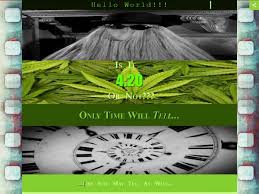 Take Me To This Website
Hit Me A Random Website
If you are looking for other things to cure your boredom, then why not visit our bored forum?  Here you will find all of the wacky and wonderful things that people are posting from around the world.  If you are looking for something to waste your time on then pop along and say hi. This part of the website is brand new, so we could do with as many people as possible stopping by to help us grow.  You can also submit a fun site to us, if it's unique then we will add it to our vaults for our readers to see for ever more.