If You're Looking For Something Completely Bizarre To Slay Your Boredom Then Check Out Ian's Shoelace Site.
Ian's Shoelace site is Fashion, Fun & Science all rolled into one cool website, and it's the Internet's number 1 website about shoelaces and home of the famous Ian Knot, which claims to be the world's fastest shoelace knot. Can you tie it in under two seconds?
So, if you want to, tie shoelaces, lace shoes up, stop shoelaces from coming untied, calculate the correct shoelace length or even repair aglets, Ian's Shoelace Site is the one-stop shop you have been looking for all of your life.
This cool website us packed with information, some really cool, some really useful, and some really useless. But if you are prepared to read through it all, your boring day will be gone forever.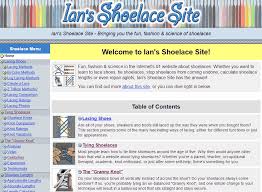 Take Me To This Website Hit Me A Random Website