Bored? Then Why Not Meet An Inmate Pen Pal ?
Connecting inmates with pen pals since 1998-  Yep, you heard us right!
There are dating sites everywhere these days, all claiming to find you your perfect match. But some of them end up coupling you with waifs and strays. So why not bypass that and meet an inmate?  This weird website provides a service that hooks people up with male and female criminals who are seeking pen pals.  Sure it's a little bit bizarre. But you now have the chance to hook up and start writing letters to your future husband or wife.  Each inmate comes with his or her own prison number along with a bio of what they are interested in and their vital statistics. When navigating the site you are able to search via sex or age, so you can hone into your perfect pen pal.  This website is prefect for someone who is looking for love, fans of the naughty men and women, or simply people who just want to talk to someone a little bit different.
There are 1ooos of inmates on the site and new prisoners are added almost daily. So if you don;t see anything you like you can keep checking back until your Casanova gets convicted and sentenced.
Let us know in the comments if you have used meet an inmate to find your future partner.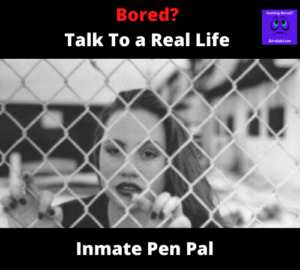 Take Me To This Website  Hit Me A Random Website
If you loved this post then check out the others in the weird websites category.  Here you will find 100s of links from around the world that are a little but peculiar, odd and strange.  For instance, a virtual spider that you can control from your smartphone or computer. Or even the flat earth society, who even in this decade still believe that our planet is as flat as a pancake.  If you know of a site that would fit into this category get in touch with us.  We would live to hear from you.