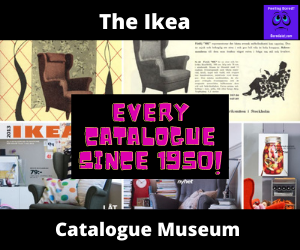 The Ikea Catalogue Museum is exactly what you would expect it to be.  It contains every single release since its inaugural version in 1950.   Yes it's been going for over 70 years. Ikea was formed in 1943 by Ingvar Kamprad in the country of Sweden, and has since gone on to become one of the most iconic brands in the world.  It sells furniture that still retains its original Swedish design and heritage and its catalogue is a showpiece in every longue and dining room across the globe.  The early catalogues of the 1950's are of course in the native Swedish langue, but you get to see all of the early pieces that came from Ingvar's mind and how they went on to shape some of the best sellers in the company.  If you're really bored out of your mind you can scroll through every single page in the museum, but we recommend that you get the snack and supplies in first, as they're thousands of them.
So if you're looking for something to occupy your mind during a lazy afternoon or you're looking for inspiration for your next room design, the Ikea Catalogue museum is your daily dose of inspiration.
More Fun Things To Do Online
This link is part of the buy weird things online category. Here you will see all of the bizarre and cool shopping websites from around the world.  Including pranks you can ship to your friends. Really cool and different gifts, and of course a natural placement to the socks and candles that you may give every holiday season.  Bored A lot is the one stop shop for things to do when you're bored, including random websites, useless websites and cool websites from the four corners of the internet.