Cure Your Boredom Now With 100s of Pictures Of Hungover Owls
You're probably thinking the same as us right?  I  didn't know that owls partied hard and got drunk,  Well apparently they do,and they live life to the extreme.   If you're really bored and want some much needed smiles and giggles then check out this funny Tumblr website that features Hungover Owls from around the world.  Well not really, but they do look like they have woken up with a really sore head after a night on the vodka.  This site contains loads pages of images to make you laugh and chuckle.
So sit back and have a good 'hoot' at these worse for ware little fellas who partied a little bit too hard last night. (Sorry for the pun)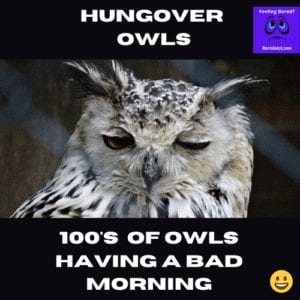 Take Me To This Website   Hit Me A Random Website
Still Bored?
Bored a lot has a huge collection of websites for bored people. Funny websites, useless websites, random websites, and clever people websites.  In fact we cater for pretty much any niche.  So if you have, or know of a site that would fit into one of our categories then let us know in the comments, or submit it to us using the link in the menu.  We will then try our best to add it to our vaults.