How to Throw a Virtual Holiday Party for Your Team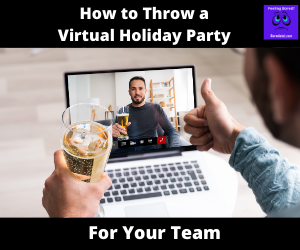 2020 has been a year unlike any other. The COVID-19 pandemic has put a strain on everyone's routines, schedules, budgets and even sanity. Months into the pandemic, some people have already gone back to the office. In contrast, others are still fully remote and juggling work tasks with childcare and online school. 
Who would've thought we'd be spending the holidays still stuck at home? Some companies are finding ways to celebrate the holidays, such as a holiday office party, to get their employees' minds off of things and to give them that much-needed break. But instead of doing it in a specific venue, it's much better and safer to host one virtually.
When hosting an online virtual holiday party, you have to make sure everyone has fun and doesn't get bored. If you're planning to host a party for your team this holiday season, we've got you covered.
In this article, we'll discuss various virtual event ideas, party games, dos and don'ts and everything else you need for your virtual holiday party!
Adapt and adjust
Because we're still in the middle of a pandemic, the circumstances may call for a bit of holiday party tradition edits, or even better, creating new ones for your team! 
When planning your first virtual online holiday party, think about how you used to celebrate the holidays with your team. Perhaps you use this annual event as an opportunity to give back to charities and communities, or maybe your team celebrates by going to the nearest open mic bar and singing the night away. No matter the tradition, you can still bring the fun virtually.
Whatever you decide to do for the party, ensure that you are aware of the situation of every member of your team's situation, especially those affected by the pandemic. Be conscious of when and how you'll be hosting the party, as well as considerate to those who can't participate.
Host party games
Thankfully, some people have adjusted well to hanging out with friends online and created different ways to have fun and avoid being bored through virtual hangouts. Because of that, having games for your team's holiday party will be a piece of cake!
Play games like Jeopardy and create quizzes inspired by your company's culture or industry. Or if you want to know more about the team, try playing your version of Family Feud. Another game you can try is charades since you'll be able to see each other anyway through the computer screen.
Execute an awards show
One of the things you shouldn't forget, especially during the holiday season, is to show gratitude and acknowledge all the hard work your team has done, especially during these circumstances. And what better what to do that than squeezing in an awards show segment in your program.
To do this, you can send in prizes ahead of time, but make sure that they only open it during the awards ceremony. The award package could include a certificate and a token of appreciation. Make the awards both serious and fun to help lighten up the mood and bring laughs and happy tears during your virtual holiday Party.
Conclusion
Although it's a weird time to celebrate the holidays, it shouldn't stop you from having fun with your team, and the best way to do this is by hosting a virtual holiday party. Make sure your team enjoys themselves and fight boredom by following these three major tips. Who knows? You might have started a new tradition your team will look forward to in the future!
Kill boredom with Bored A Lot. When you're bored at home or at work, visit our website to find fun online games and silly random websites to fill in the dull hours of your day. Try some fun stuff with us today!