How Many Seconds Can You Last
How many seconds can you last on this website? If you are are truly bored then log onto and try and beat the all time record. You can even get a badge to show the total time you have wasted. Go on. Be all that you can be! The currently record for us stands at 12,000 seconds which works out as just over 3 hours.  Yep we were pretty bored. To date over 14 billion seconds have been wasted on this site so far.  Dependant on how long you have lasted depends on where you fall into the ranking system.   From the Black whole to the Pedestrian, let us know in the comments where you ended up.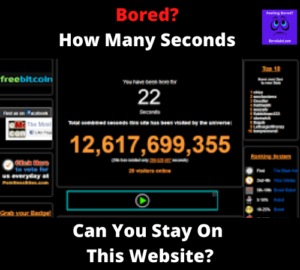 Take Me To This Website     Hit Me A Random Website
Useless Websites
Bored a lot is the home to the most useless websites on the internet. We have 100s of pointless sites that are guaranteed to make you laugh, cringe and scratch your head all at the same time.  Sit back, crack open a cold one and waste your time on our archives.