Kill boredom and go back in time.
Have you ever wondered what happened in a particular year?  This could be your date of birth, or even your parents or grandparents. Well the fun history website 'take me back to' allows you to find out exactly what went on.  Simply select any date from 1900 on wards and press enter.  The next screen will show you everything historically that went on during those 24 hours.  You will then be shown all of the Movies that were released on those dates, this is then followed by the number 1 songs and books.  This is perfect for people who want to track back to a certain date to see if anything cool happened. Obviously the further you go back in time the less rap music or adventure movies will be noted. However this is really interesting if you are bored of looking at the same old thing on Google.
Happy time travelling, and don't forget to let us know in if anything strange, bizarre or funny happened on the date you searched for.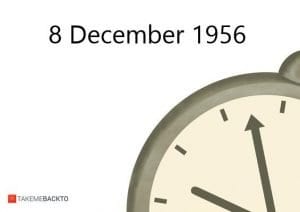 Take Me To This Website
Hit Me A Random Website
When you are finished with this link, why not pay a visit to the other websites in the clever stuff category.
Here you can check out all of the sites that are designed to increase your brain power on a boring and un-motivational day.  And who knows? it may even do you some good and spur you into action.