Getting to Know Yourself: Interesting Personality Tests to Try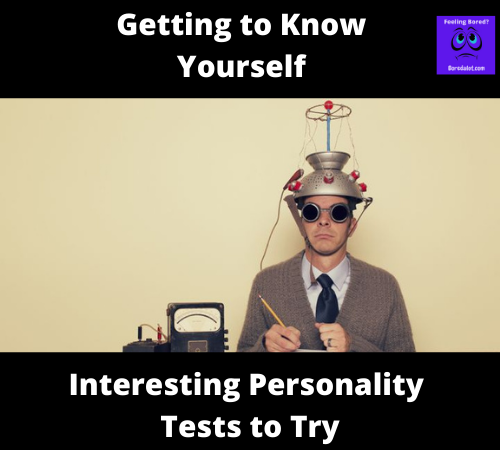 Sometimes, when you catch yourself thinking, "I'm bored," one of the things you'll find yourself doing is room scrolling on your social media platforms. And once you've reached the end of your updated timeline, you go ahead and doomsurf your way into the worldwide web. Though this can definitely kill time, why not make it a bit more productive instead and dig deeper into your personality? How do you do that? With personality tests, of course!
Countless research tells us that our personality type has a tremendous impact on our lives. This is why knowing your Myers Briggs, 16 personalities, and the Big Five can help you navigate your life and deal with certain situations mindfully. 
While many of us simply want to understand ourselves and figure out our dynamic in certain relationships. Some use personality tests to filter out job applications and understand the career path of an individual. But regardless of the type of test you're taking, we can't deny that these personality quizzes are quite enjoyable to indulge in. 
If you're curious and want to dissect yourself and learn more about yourself, here are some personalities test that you can try:
One of the most popular personality type tests is the Myers-Briggs Type Indicator, also known as MBTI. With this type of test, test takers are categorized into different personalities, such as ENTJ, INTP, INFJ, and more. 
This test will help you dig deeper into your extrovert characteristics or understand how you deal with people if you have an introverted personality. Unfortunately, the original Myers-Briggs test is not free, but there are a bunch of free alternatives online. 
Just like the Myers-Briggs, the idea of the 16 Personalities test says that we are a combination of different characteristics which ultimately define our personality. 
When you take the test, you'll be given a list of statements, and you'll have to answer the extent to which you agree or disagree. And then at the end of the test, you're told where you fall under in the four major spectrums — how you make decisions, how much of a detail-oriented person you are, if you make choices based on emotions or logic, and finally, how much you think aloud before actually speaking.
If you want to dig deeper into describing personality differences, professional psychologists recommend the Big Five model. The Big Five Personality Test will take about 15 minutes, wherein you'll need to answer about 50 questions. And the five factors that are defined in the test are the following:
Openness to experience;

Conscientiousness;

Extraversion;

Agreeableness, and;

Neuroticism;
The great thing about this test is that it's considered highly reliable and applicable internationally. Besides that, it has genetics and biology-based concepts, making neurologists work closely with the Big Five model. 
Career Values Assessment by MyPlan
If you want to take a test that could help you career-wise, MyPlan offers career planning tools, including helpful career assessments. Sometimes, many of us are quite confused about what we are capable of doing, but the Career Values Assessment can help you find a suitable job for you based on your personality. 
The Career Values Assessment personality type test is one of MyPlan's free career tests, giving you 20 questions to answer that take around 12 minutes to complete. After, you'll receive a description of your six core values — recognitions, achievement, independence, relationships, support, and working conditions. Besides that, you'll also get a ranking of various jobs that reflect your answers. 
The Bottom Line: Personality Type Tests Are All Fun and Games until You Realize They Actually Make Sense
Personality type tests are always a fun way to discover yourself and understand the dynamics of your personality, how you cultivate relationships, and how you get your work done. So instead of doomscrolling today, why not learn more about yourself with these personality tests? Also, you make things even more interesting by sharing your results with your friends!
Are You Bored?
When you find yourself starting to think like there's nothing else to do to help fill the empty hours of your day, hold your horses — Bored A Lot is here for you. 
Our website has a plethora of listicles of interesting websites, fun sites, fun online games, quirky websites, personality type test sites, and more. Let's get you out of being bored and start clicking on fun sites today!