Funny News Stories To Ease Your Your Boredom
Fark has long been a favourite of Bored a Lot. For years it has been posting fun news stories from around the world, some of which are bizarre, some  are funny and some are just downright weird. Do you ever scroll through the internet looking for something that is a little bit different? Well this fun site is for you.  Fark relies upon it's readers from around the world to come up with articles they have stumbled upon. These stories are split into categories and allows you to see in a snapshot the madness that is going on in the world. If you're still bored you can visit the Fark forum which has loads of like minded people discussing the happenings in the world.  You can even buy your own Fark produce in the new online store.
So if you are fed up with typing Google I'm Bored and seeing nothing of interest (Apart from our site of course) then this is the link for you 
Be sure to let us know in the comments which of the funny news stories made you chuckle.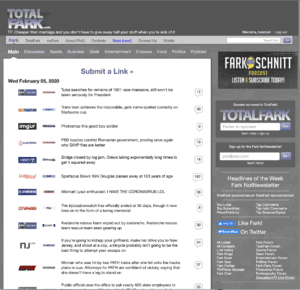 Take Me To This Website  Hit Me A Random Website
Fark is part of the top websites category which forms part of our hand picked favourites. These are websites that are long established, funny, or just all round cool. This includes the google flight simulator.  A website that allows you to take a plane and fly it over any location in the world using Google maps. You can even fly over your own house.  You can also listen to live emergency scanners from around the world. Perfect if you are sat in the house with noting to do.   There are simply 100s to chose from.  And when you are done with that category, why not check out the 1000s of bored websites in our other sections? We promise you won't be disappointed.