Draw A Stickman Adventure
Remember the time you learnt how to draw stickman on your school workbooks? Now you have the unique chance to get that time back. This hilarious website allows you to create a stickman with your mouse. Sure it will look crude and pretty lame, but you can use your imagination to take this little fella though an adventure he never would have dreamed of And the cool thing is that you can then use it to take part in short missions.  Perfect for Boredom Busting the day away.
Don't forget to share your best creations with us in the comments section below.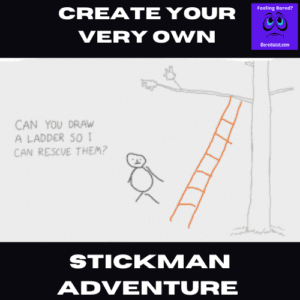 Take Me To This Website   Hit Me A Random Website

More Bored Websites
This site is part of the games for Bored Games websites category. Here you will find the most unusual games to grace the world wide web.  Explore this category for little gems such as the dinosaur game. Do you remember that that little fella that ran across your internet screen in the 90s? Well you have come to the right place.  You will also find the Nokia snake game.  The must have accessory for every Nokia phone.   There are simply 1000s of weird and unusual games to keep you occupied through your boredom.  And when you are done playing, check out all of the other categories in our website. We promise you will not be disappointed.
So stock up your fridge, close the curtains and be prepared to be bored no more! You  have a  new best friend in boredalot.com