The Disney World Virtual Tour 
If you're stuck in the house and you are looking for something fun and interesting to do, then why not take the Disney World Virtual Tour. When you land on the site you are presented with an interactive map that lets you pick which theme park you want to explore. Magic Kingdom, Animal Kingdom, Hollywood Studios the choice is yours. When you pick a park you will then be zoomed into the street view of each area and allowed to explore. You are given a 360 view of everything and can even watch informational videos of the shops, attractions and rides. So if you're stuck in the house with nothing to do and you are a fan of holidays or Disney then this is the site for you. What's also pretty cool is that you can see a street map view of the local hotels and Orlando airport Don't forget to let us know in the comments your best bits.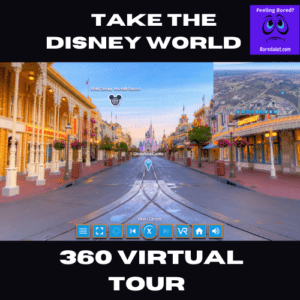 Take Me To This Website    Hit Me A Random Website 
Still Want More Things To Do Online?
This link is part of the top websites category. Here ill find the very best and coolest handpicked sites that we love. Not every website manages to get into this section, so it has to be pretty special. Check out sites such as the virtual Smithsonian tour, or Nasa Live. See every launch and interaction on real time. And what's great about our website is when you're bored with this category you can move onto the next. We have 1000s of cool and interesting websites to satisfy every type of niche and every type of boredom. So don't waste any more time reading this paragraph, get exploring and never look for things to do online ever again.