Feeling Bored? Are Looking For Something A Little Bit Weird? Then Check Out This Cut Out Elon Musk Mask
Cure your boredom now and cut out your very own Elon Musk Mask. With 4 different faces to download, you can print it, wear it and be extraordinary.  The 4 masks are as follows
The Iconic Mask:- This Fits any occasion. Everybody listens when you wear it.
The Badass Mask:- Works perfectly to reassure its' wearer
The Falcon High Mask:- Literally brings your mindfulness to the highest orbits
The Been Better Mask:- Everybody is a human.
Every Cut Out Elon Mask is life-sized. Ensure you use heavier paper for a longer lasting effect. Use some masking tape to attach ribbon.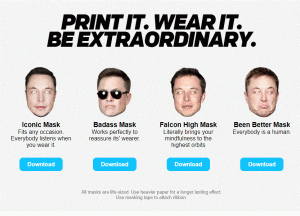 Take Me To This Website Hit Me A Random Website