Central Park Virtual Tour
Whatever you are doing, stop right there. (Actually, you're probably not doing very much if you're here…). It seems to me you're feeling very bored, how about going on a tour? One that involves not moving a muscle, apart from your finger on your mouse. Fancy a virtual trip to the Big-Apple, New York, US of A? Well, come on then let's go and visit central park. All you need to do is click https://www.youvisit.com/tour/centralpark and instantly you will be taken on your own private tour. There is a lovely lady narrator guide who will talk to you. Telling you about all the different things that you are seeing. From mosaics dedicated to John Lennon to statues of Hans Christian Anderson. Gentle, warm summer strolls past lakes, trees and historic buildings…in fact, I will shut up and let you go and experience it all for yourself…this truly is a genuinely wonderful and relaxing website.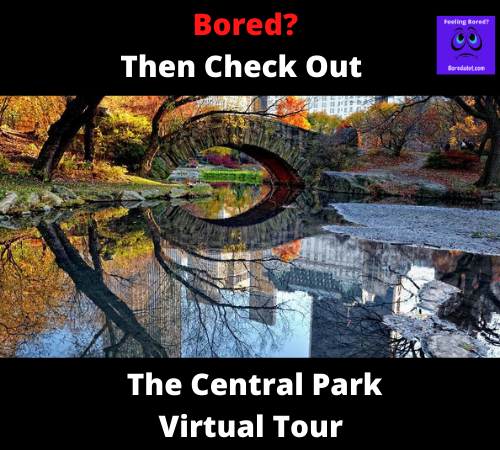 More Boredom Relief 
Here at boredalot.com we have dedicated this website to the bored people of this world. We want to shout this out from the rooftops…"Enough is enough, stand up with your heads held high, no more are we going to let you take this helpless feeling of boredom anymore. We stand with you shoulder to shoulder." That is why we have searched high and low from every corner of the world wide web just so that we could create a place of wonderous sanctuary. A place where you can forget about life's little ups and downs. 
We guarantee you will witness the most outrageously stupid, weird, funny and completely pointless websites. Some of the things you will see will actually have you truly asking yourself, "What is going on and am I in the twilight zone?" and those feelings of boredom will be a million miles away.