Bored? Love Cats? Then Check Out This Cat Purr Simulator
After a boring, stressful or frustrating day, The cat purr simulator gives you the soothing sound of a pussy cat without the allergy. Cuddling up with a purring cat is such a relaxing and comforting experience. And some comprehensive scientific studies have shown that people who own cats have lower blood pressure and can apparently live longer than humans who don't own pets
So whether you're away from home, can't have a pet, or just need your purr fix right this moment, the kitty purring creator can help you relax and emulate the soothing experience of snuggling up with your furry friend minus the fleas and cat hair!   Change the bass, the treble, the speed, in fact, change anything to get your purrrrfect sound. Sorry, we couldn't resist.
Useless Website or Really Cool Website, You decide?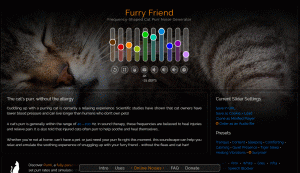 Take Me To This Website Hit Me A Random Website
Here at bored a lot, we love all things animals, so if you have know of any useless websites or funny websites that would fit this niche, then submit it to us then and we will add it to our vaults.   
If you want to see some more 'animal stuff'  then we recommend that you check out our animals tag to cure your boredom