Brides Throwing Cats.
Brides throwing cats is a classic website where some genius on tumblr has come up with the idea of replacing brides throwing bouquets of flowers with kitty cats. Obviously these cats are photoshopped, and we promise that no cats were harmed in the making of this cool website. But you have to admit. some of them are really funny? So sit back and re-live peoples special day which watching a huge selection of felines being flung through the air. More importantly, you are able to add your own uploads to this website, so if you would like to add a flying cat to your wedding album, then go ahead.
Special Kudos to the person who is bored enough to spot the flying pug 🙂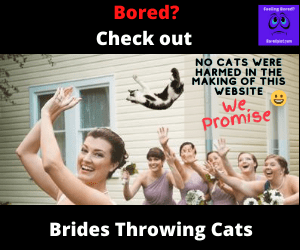 Take Me To This Website     Hit Me A Random Website
More Fun Sites
This link is part of our Funny Websites category.  This section is packed with the funniest links on the internet. We are pretty sure that we have the biggest collection around and you can spend your whole day looking around.  Here you will see sites such as spend Bill Gates money and Real Air Guitars.  Pay this category a visit if the titles intrigue you.  When your done there, move onto the next section. We'll promise you that we have a bored website for every type of boredom and you will not be disappointed.
Did you know that we are also taking submissions? So if you know of a link that our readers would love, let us know and we will try out best to add it to our archives for the whole world to see .