Big Rig Steve's Truck Live Web Cam
If you love trucks you will love Big Rig Steve's truck live web cam.  Reality Trucking in Real time.  Follow the adventures of this dedicated trucker as he drives around America picking up and dropping off goods.  His live cam is hooked up to the dash of his wagon so you get to see everything he sees. You also get to see real time information such as his speed, his altitude and driving time. You can also follow him on an interactive map that shows all of his truck stops and area information. Every time Steve gets into his cabin his adventures are live streamed on his website and via his Youtube channel.  His followers then get to comment on live chat whilst he drives. If you have always wanted to visit parts of America, but have never had the chance to go there then this is your opportunity. Simply find out when he is going there and watch the journey in full.  Steve's 42,000 Youtube followers obviously loves what he does, so if you're sat in the home or office looking for fun things to do online when you're bored then give this a go. It is a live web cam that always has something happening.  (Providing he is driving of course) so you never know what you may see.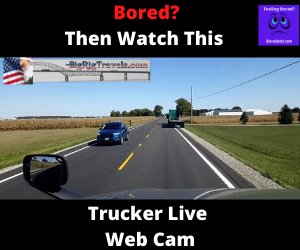 Fight Boredom With Some More Fun Sites
This website is part of the weird websites category, the home to the most bizarre sites on the planet. Check out classics such as online palm reading and the hugely popular Hashima Island creepy tour. An interactive look around an abandoned Japanese Island. But don't forget, we are not just about strange websites, Oh no! We are the internets largest resource for things to do online when your bored. We have interesting websites, fun websites, weird shopping websites and much more. So instead of going back onto boring old Facebook or Instagram give us a shot, we promise you will never have to fight boredom ever again.