Play The AI Dudgeon Game
Are you bored of the same old games on the internet? Are you looking for something a little bit different? then why not give the AI dungeon Game a shot?  The artificial intelligence software generates a story, the plot then changes accordingly based on what you type.  This means that you play a completely different game every time you visit the website.  We had loads of fun developing our own story and watching what each action you type does. So if you are bored and you have loads of spare time on your hands, lock the door, get some snacks in and play the AI dungeon game.  It can be played across all devices so there is no need to get excited then, burst into tears if you only have a small device.  You're good to go guys and girls.
Let us know in the comments section how you got on and what you thought of this weird and wonderful game.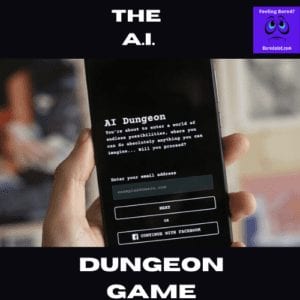 Take Me To This Website    Hit Me A Random Website
More Things to Do Online
This site is part of the cool online games category, here you will find all of the weird and wacky games that have been found by our team in the far reaches of the internet.  Games such as the drunk walking game.  How far can you walk home after drinking an entire bar dry? Or what about the QWOP game?  This has to be one of the hardest games in the world as you have to use just the 4 keys on your keyword or phone to run a 100 meters?  sounds easy? we suggest you give it a try.  When you're looking for more things to do online explore the rest of our categories and see why our followers love what we do. We promise that we have a link for every type of boredom across every niche.  So give us a go.   Did you know that we also have an online forum? here you will find like minded fed up people that just want to share random and useless stuff. Why not pop along and say hi?