Watch People On The 72oz Steak Live Webcam
Cure your boredom now by watching people attempting to devour a monstrous 72oz steak on this live webcam from the Big Texan Restaurant.  This place has a table set up where only the people brave enough to tackle this challenge can eat.   Above the table there is a huge countdown clock, where you can see the victims progress. If there is no challenger happening, then the camera still shows there staff in the busy kitchen in the background.
If you are bored and love the whole man vs food concept, then you will love this 72oz steak live webcam.
let us know in the comments section if you have ever tackled a monster like this yourself and of course if you beat it.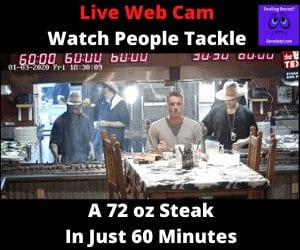 Take Me To This Website      Hit Me A Random Website
More Things To Do Online When Your Bored
If you loved this link then check out the others in the weird websites collection. Here you will find 100s of the most bizarre and crazy sites that have ever been discovered on the internet. Sites such as the prison virtual tour and the museum of endangered sounds. If the sound of the intrigues you then give them a shot. You won't be disappointed. And when you're all done with that category, move onto the next. Funny Websites, Craft Websites, facts and Figures Websites, Useless websites, we have something for everyone and every stage of boredom.