6 Fun Things to Do at Home During the Holiday Season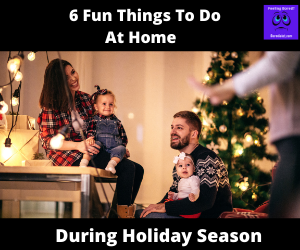 The holiday season is the most wonderful time of the year, but you may not be enjoying it as much as you expected. For instance, there may be boring holiday traditions at home that can be hard to take part in. Fortunately, you've come to the right place to help you find joy during the holidays.
This article will provide you with six fun ways that you and your family can spread the holiday cheer through at-home activities. Take this as an opportunity to bond with your loved ones and avoid any holiday-style dull moments. 
1. Make DIY gifts
You can expect many gifts during the holiday season, but as they say: Giving is better than receiving. Why not get festive with your family and challenge yourself to make creative gifts for your loved ones? You can get into some arts and crafts that will help you produce thoughtful keepsakes for everyone! Don't forget to search online for gift ideas!
2. Pull some wholesome pranks
The main goal for any holiday gathering at home is to make everyone smile, and you can do so by pulling some pranks! However, you need to look for wholesome prank ideas to make sure no one's feelings get hurt during the holidays. Get other family members involved, and don't forget to document each prank with your mobile phone to bring in some much-needed festive cheer online!
3. Decorate the house
Nothing is more fun during the holidays than being around the people you love as you decorate your living space. You can also get crafty and make custom decorations that are one-of-a-kind and will be the envy of households everywhere. You can also use this as an opportunity to humblebrag online about your newfound skills! And try to challenge yourself with what is readily available at your home! 
4. Watch your old holiday videos together
One of the best ways to have fun during the holidays is to remember what matters: the love of family and friends. And what better way to do that than to reminisce the good-old-days! So dig deep into your family archives for holiday videos. You can also look through photo albums together, which are just as fun! 
If you want to get truly ambitious, you can also recreate these treasure holiday moments using your mobile devices to document everything. These recreations will also be the talk of the holiday season when you post them on social media! 
5. Eat! 
Binging your favorite food is such a popular thing to do during the holidays because there are many opportunities to do so! You can also take this opportunity to taste different types of food you have not tasted before. However, you also have to cook and buy all the ingredients you need to ensure that you are well-stocked for any feast. 
As such, don't forget to plan your grocery trips and look for ways online to source the best food for the holidays. You can also look for exciting recipes that will enable you to explore different cuisines. You can also divide the tasks amongst your family members to easily cook up the best holiday feasts!
6. Look for free online games and beat everyone's high score
You can introduce some healthy competition for your holiday home by looking for online games to play! The best part about this option is you can also find the time to teach your no-so-techno-savvy family members how to use the computer! And who knows? They may even beat your high score! Don't forget to screenshot all the high scores for online bragging rights!
Conclusion 
If you want your home to be truly happy during the holiday season, you need to find ways to cure boredom. Fortunately, you now have some festive ideas that can help you find fun easily. Remember all the previously mentioned tips and get into the holiday spirit today! 
Are you bored? Cure your boredom easily with Bored A Lot, your valuable resource for weird websites! We can provide you with the gift of endless fun during the holiday season. Browse through our website today, and make sure that everyone is genuinely having fun!