5 Fun Personality Tests You May Want to Give a Try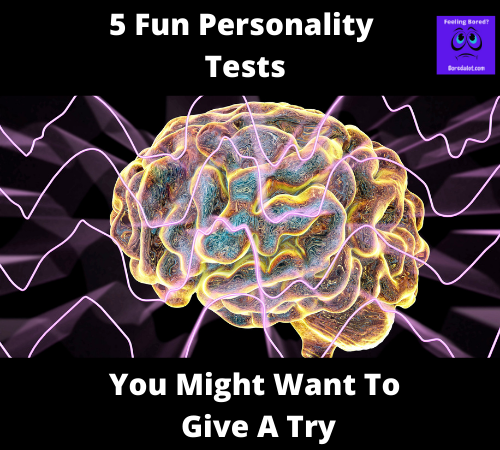 Boredom is not something that many people like to experience, yet there are various ways to kill this feeling. In today's modern society, most people resort to different online means to kill time. The chances are that they check their social media, play online games, or virtually chat with people. But have you ever considered taking personality tests? Not only are they fun and exciting, but they are also educational that will help you understand more about yourself on a deeper level.
Here at Bored A Lot, we have a vast array of random websites that can give you some really good time. Our ultimate goal is to provide the most diverse set of links and fun things to do for any type of person. Whether you're looking for practical jokes websites, arts and crafts websites, or quiz and trivia websites, we can surely help kill your boredom!
In this article, we will share five fun and educational tests you may want to give a try when you have nothing to do:
1. Photo career quiz
This type of quiz is perfect for those who aren't into verbal questions. It is an entirely visual test consisting of 30 questions with two images each. All it takes is to choose between the two photos that appeal to you the most. In the end, your choices will reveal what your personality is. While it isn't a rigorous psychological test, it can be compared to the Holland Code Personality Test results!
2. What is my spirit animal?
This test is actually quite fun. Similar to the previous idea, your disclosed spirit animal says a lot more about your personality. All it takes is to take a short eight-question personality test. Your knack for an animal will be analyzed and revealed more about yourself. From there, you'll immediately know what spirit animal you exude.
3. The five love languages
This test is very popular worldwide since most people have a knack for love. Gary Chapman developed this idea in his book, The Five Love Languages. The book explains that we express love in five different ways, through words of affirmation, acts of service, receiving gifts, quality time, and physical touch. When you and your partner take this test, you'll both learn more about your love language so that you can further spruce up the relationship!
4. Myers-Briggs type indicator
This test is quite comprehensive and provides you with insight into how you perceive the world and yourself. This is largely based on Swiss Psychologist Carl Jung's four concepts: sensation, intuition, thinking, and feeling. Published in 1962, it became popular in the 1970s and is still relevant up to this day. The questionnaire evaluates your personality based on four key aspects: introverted vs. extroverted, intuitive vs. sensing, thinking vs. feeling, and judging vs. perceiving.
5. Emotional intelligence test
Many people give premium to Intelligent Quotient (IQ) as a measure of success. However, in recent years, people have seen how Emotional Quotient (EQ) is far more important in dealing with life, socializing with people, thriving in the workplace, and becoming successful. This is why taking this test to gauge your EQ and assess yourself can make a world of difference!
Conclusion
At this point, you now know that there is more to these personality tests than meets the eye. Not only do they kill your boredom and give you a fun time, but they also make you understand more about your personality. Whether it's a photo career quiz, the five love languages, or an emotional intelligence test, you can surely enjoy them while getting to know more about yourself!
Are you looking to kill your boredom? You've come to the right place! We're the go-to digital platform that can direct you to random websites with free online games, trivia, quizzes, weird stuff, prank ideas, jokes, and other forms of entertainment. For more fun and educational personality-type tests, check our site today!