5 Activities for Couples to Do at Home to Get Rid of Boredom
Couples that have been living together for a long time may sometimes fall into a boring routine. Breaking out of that monotonous pattern by going out on a date is great, but that will not always be possible. Fortunately, finding something fun to do at home is always an option. It will help cure the boredom and even bring couples closer together.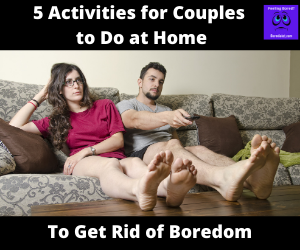 Fun Activities to Do at Home to Get Rid of Boredom
You and your partner don't have to go out to have a good time. If you are looking for fun things to do as you spend a relaxing day together, here are a few ideas for you!
1 – Play Board Games
Playing board games is a great way to pass the time. Challenge each other to trivia games, board games, and even games you both used to enjoy when you were younger. Keep in mind that couples who know how to have fun together are couples that will have a long-lasting relationship.
2 – Try New Recipes Together
Cooking is always a good hobby to try together. Instead of cooking the same old meal or ordering take out again, why not try following a new recipe together? After all, eating and enjoying food is always a fun activity to do as a couple. Cooking together is a wonderful way to team up and create something delicious together!
3 – Make Art or Music
If you both have an artistic side, you may enjoy creating art side-by-side. If you both know how to play musical instruments, there is no shortage of fun if you choose to play a song together. Find something that you both will enjoy, whether that be singing and playing along to your favorite songs or making a collage out of old magazine clippings.
4 – Home Improvement Activities
Making your home look and function better is a great way to spend your time and energy. Bring out your old pair of jeans and get ready for things to get messy! Whether it is painting one of your bedrooms a new color, or repairing your kitchen sink, doing home improvement tasks together will help pass the time and will boost your productivity as well!
5 – Binge-Watch a Series
Watching a series together is an excellent way to kill time and enjoy each other's company. Prepare a bowl of popcorn and add butter and salt for maximum enjoyment! The key is to find a series that both of you will love.
Conclusion
You want your relationship to be anything but predictable! It pays to try something new with your partner every once in a while. Finding new and innovative ways to spend your time together will help keep the spark in between you two going strong. The important thing is to find an activity that you both will enjoy doing together.
Being stuck at home doesn't have to be a bad thing if you know how to spend quality time together. Who knows, you may even find out something new about your partner in the process!
Are you bored at work? Bored at home? Bored with nothing to do? Visit Bored A Lot for things to do when you're bored. Find random websites and fun online games with us! If you're bored with your routine, try some fun stuff we have prepared for you! We have great ideas for things to do at home. Visit our website today!