4 Ways To Decompress And Beat Boredom Amidst The Lockdown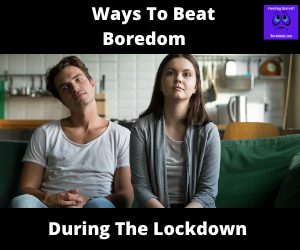 The coronavirus pandemic is taking a toll on us all. Even the strongest, toughest folks are feeling the fatigue and struggle of pushing on with life as if things were normal. As if the risk of disease weren't enough, the economy has suffered a massive blow, meaning our professional lives are affected as well. As a result, many of us are left feeling mentally exhausted and not sure how we'll be able to go on.
While it's easy to give up and wallow in your misery, the only way we're going to get out of this together is by keeping a positive mindset. And one perk of sheltering in place, as we see it, is that you get more time to focus on yourself and take better stock of everything going on in your life. 
We get it—you're bored in the house and you're in the house bored. There are only so many things to do at home. After you've had a good breakfast and spent some time investing in yourself, why not try some new things to decompress and beat the boredom? Here are a few of our suggestions:
1 – Read Something New
Most people discover the genre of books they prefer at a young age. While these can change over time, there's always going to be a genre or three left unread. Now is the best time to explore a book that you might normally not have paid much attention to. Books are an escape, and what better time than a lockdown to disappear into a different time, a different world? Who knows? You might fall down a new rabbithole that can show you a wealth of stories you'll enjoy!
2 – Upgrade Your Skill Set
It seems everyone has explored their culinary skills one way or another during these quarantine times. Dalgona coffee, banana bread, sourdough bread—the "trends" just keep coming. However, new learnings can also be found online. You can also look into a more advanced course of study into something you already know even a little bit of. Don't have the budget? Look at places like Coursera and EDX, where the likes of Harvard offer a handful of free courses. It could also work out during a job hunt; who doesn't appreciate having another certificate to add to LinkedIn or having more knowledge to draw from during a competitive exam for work?
3 – Reach Out While Staying In
Thanks to the advancements in technology, practically everyone has a smartphone these days. This can certainly work out to your advantage. Have you ever had to turn down a phone call or a FaceTime session with family and friends because you're "too busy"? Now is the best time to make it up to them! Make a list and figure out who you'd love to reconnect with or just talk to more in-depth. Feel free to go with your heart too; impromptu video calls with old friends, a call to your childhood friend that you may have started to drift away from… the possibilities are endless. You can also host virtual parties over platforms like Google Meet, Houseparty, or Zoom.
4 – Unleash Your Inner Child
There is a wealth of internet games to play when bored available. With everyone stuck at home, there are newer ones coming out also. You can choose from a plethora of genres and game styles—there's even a Yoda speak generator!
Conclusion
Aside from fending off possible long-term medical issues due to inactivity or mental health concerns, it's key to decompress. It's perfectly normal to feel overwhelmed and bored all at once during these trying times. The best thing you can do for yourself is take it one step at a time.
Ready to let go and take an actual break? Sit back, relax, and visit Bored A Lot for things to do at home!