4 Activities to Enjoy With Friends and Family to Fight Boredom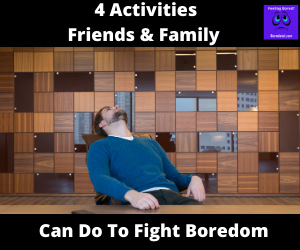 Bored? You are not alone. Millions of other people are probably just as bored, especially at home. They have nothing better to do than to sit down all day and watch TV. Fortunately, there are many solutions to remedy this problem. The best part about this is that they are all easy to do and become even better when enjoyed with family and friends. Here are fantastic things you can do at home to fight your boredom.
 1.
Host a barbecue
Everyone can appreciate good food, especially at a barbecue! There is just something about food cooked straight from a grill that makes it extraordinary. Perhaps it is from the fun atmosphere or the hard work put into grilling the best meats and veggies. Whatever the reason may be, if you are bored, plan a barbecue with your friends and family. They will be more than happy to drop by your place for a wonderful evening of chatting, playing, and eating, especially if they are bored, too.
 2.
Grab a book
You may not realize that reading a good book with other people, such as your family, can be extremely gratifying. Each of you can take turns reading and then get together to discuss it. You can also do this with your friends, and you can share digital copies of the book if your family or friends live far away. If you are not a bookworm, you can consider using an audiobook, which is essentially someone reading the book to you.
 3.
Enjoy a karaoke evening
Karaoke is always fun, even for those who cannot sing. The best part about this is that you do not have to go to some random venue and rent a room to sing. You can do all of it right at home with a small setup. With your family and friends around you, the night will be nothing but fun and excitement. Pair that with a few drinks, and you will soon find everyone singing their hearts out.
 4.
Grow a personal garden
When you think of gardening, you might assume it is nothing more than hard work for a few veggies and fruits. However, when done right, it can be extremely productive! Plus, since you are bored, gardening can easily take up all your time and attention to keep you busy. In the end, you will get to enjoy the fruits of your labor, and the gratification that comes from creating a successful garden is something out of this world.
That said, bring your family to help out with the garden. It is a great way to spend family time as you work together to produce good food that everyone can enjoy over the dining table.
Conclusion
Other than what we have shared already, you can enjoy many other activities at home with your friends and family. All you need to do is get your creative juices flowing, and you will soon find a long list of things to do. If you still cannot figure out what to do, the internet's got you covered. From videos to online games, there are just so many things online to keep you busy, whether it is to keep you working on something or keep you entertained.
Are you still bored? Bored A Lot is your go-to website for all things entertainment, including online games, brainteasers, and articles, to give you more ideas to fight off boredom. Visit our website today for random online games to play when bored!