3 Ways to Turn Boredom into a Chance to Help Your Community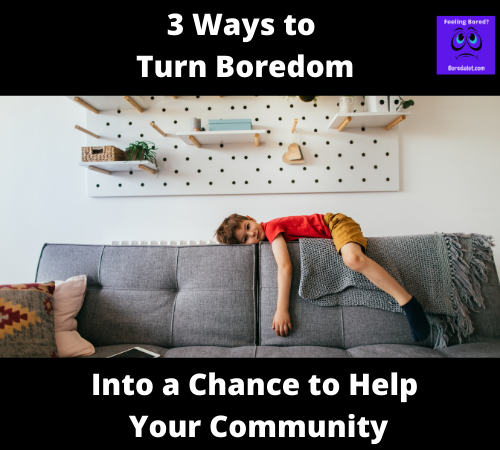 The pandemic has forced many of us to stay at home. Whether you're an outgoing social butterfly or a shy wallflower, staying at home during lockdown can get draining sometimes. Luckily, there are plenty of things to do that are both fun and helpful to the community. 
Instead of playing another episode of that trashy series you're not really invested in but watch anyway, try these five boredom-busting ideas that can help your community.
3 Ways to Battle Boredom with Little Acts of Kindness
Message or Video Call Anybody
It's no secret that people nowadays are Zooming or Facetiming constantly to interact with one another, but why limit your time to your close friends and family? There are so many people in society that just need a friendly conversation. 
Try messaging or calling people that have made guest appearances in the series of your life. You can call your old teachers to see how they're doing with online classes. Maybe call a friend from high school that you drifted apart from years ago. Heck, hit up a colleague from one of your summer jobs. A lot of people are missing the sound of other people's voices these days. Don't be shy to reach out and see what happens.
Interact with Your Neighbors
Your neighbors are probably the only people that you see daily. If you have any retired elderly in your building or block, try checking up on them once in a while. These people are just as sad as you that they missed so many moments with loved ones. Saying hello, having a quick chat, or sending in a batch of cookies can brighten their day.
Order Food or Products from Local Businesses
Online shopping has been at an all-time high these days. People are buying more stuff at home that they probably don't need. 
But instead of giving your savings away to big online stores, try looking for local online sellers and boutiques trying to make a modest and honest living. And instead of ordering out from big fast food joints, look around for some local online food services that have started delivering in your area.  Supporting these small businesses really helps them out during these times. To them, every customer counts.
Conclusion
There is only so much that you can do when you're limited to the four walls of your home. And sure, you can spend your time filming a TikTok or working on that blog you thought about years ago but never had the time to think about. But surely you can dedicate some time (and funds, if you have extra) to giving back to the town that you call home. Some of these ideas may seem small, but they make a big difference one way or another.
When you're stuck at home, there are only a few things you can do to pass the time. If you're looking for random things to do when you're bored, check out Bored a Lot. Our website takes you to weird or wonderful websites that you probably never knew existed. Productive? No. Exciting? Meh. Intriguing? Sure. Kills time? Absolutely. Check out our website today!