The 100 Meter Scroll
Cure your boredom now with the 100 meter scroll. Do you know someone who is constantly on their phone, tablet or computer? Are you bored at work? or sat in the house with nothing to do? Then accept the challenge. How quickly can you scroll all 328 feet against the clock? Warning, you will be surprised how long it is, so be prepared for your mouse thumb or your scrolling thumb to have a severe work out but the end of the race. Once you become an expert at this and if you are feeling confident try and beat the record.
If you did accept the challenge then let us know in the comments section how you got on. Who will be the best scroller?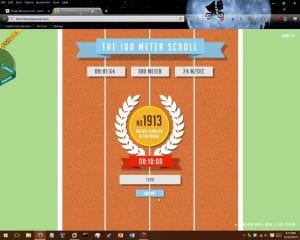 Take Me To This Website Hit Me A Random Website
More Fun Things To Do Online
This link is part of the games for boredom category. Here you will find some of the more unusual games that we have found on our travels. Games such as the type racer. If you think you are good at typing then put this to the test. The faster you type the faster your car goes. A highly addictive game that will that will keep you occupied for hours on end. When you're finished this category you can explore the rest of the site and see the 1000s of websites that we have in our vaults. Alternatively, you can pay a visit to our forum where like minded bored people can congregate and chat about useless and pointless stuff.
Did you know that we are also taking submissions. So if you know of or even own a funny or useless website that you think we would like then submit it to us. Providing it is unique and unusual we will add it to our vaults for all of our followers to see.